Tulsa Osteoporosis Specialist
Prevention, Screening, Treatment, Repair
Osteoporosis Affects Men and Women
Are you or a loved one experiencing pain? 
Common symptoms of osteoporosis
Sharp Back Pain
Low Back Pain
Upper Back Pain
Neck Pain
Shoulder Pain
Pain Around the Ribcage
Tingling or Numbness
Leg or Hip Pain
YOU MAY

HAVE A SPINAL FRACTURE

A vertebral compression fracture (VCF) occurs when one of your spinal vertebrae weakens and collapses. Osteoporosis is the most common cause of these types of fractures of the back, as osteoporosis allows bones to become weak and brittle. Untreated compression fractures can lead to debilitating knife-like pain in your back and over time can shorten your spine causing it to curve forward. Many people are surprised to learn that they have more than one fracture.

Request a consultation »
Osteoporosis Care in Tulsa
Without Surgery or Narcotics
Tulsa back doctor & renowned bone health expert, Dr. James Webb is a nationally-recognized osteoporosis specialist, known for the treatment of vertebral compression fractures associated with osteoporosis, combining minimally-invasive procedures (including kyphoplasty and medication) that can repair spinal fractures, reduce pain and restore mobility with osteoporosis prevention and management. Recently, Dr. Webb played a key role in the EVOLVE kyphoplasty study, the largest clinical trial of its kind, to track the success rate of kyphoplasty fracture repair for osteoporosis sufferers. They showed that back pained was reduced by 72% following kyphoplasty.
Osteoporosis Spinal Fractures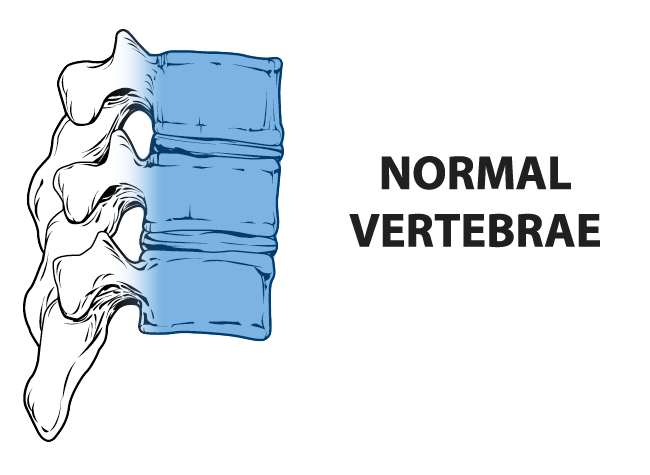 The importance of seeking early treatment from an osteoporosis specialist cannot be overstated. Many spine fractures go undiagnosed, even for years. One fracture left untreated makes you more susceptible to additional fractures. Multiple vertebrae fractures cause kyphosis curvature of the spine and pinched nerve pain.
Did you know?
Common medications may cause bone loss and contribute to the onset of osteoporosis in people young and old. Some of these include: antacids, anti-anxiety drugs, anti-depressants, steroid medications, diabetes medications, diuretics, opioid pain medications, heart medications, contraceptives and others.
We are seeing men and women in their 20's and 30's with osteoporosis symptoms.
Osteoporosis Prevention & Management
We offer a host of osteoporosis treatment, maintenance and prevention services, including: Bioidentical Hormone Replacement Therapy – Vitamin D – Kyphoplasty – Osteoporosis Management – Nutritional & Lifestyle Consultation.
Osteoporosis Treatment Options in Tulsa
As the region's premier osteoporosis specialist, Tulsa's Dr. James Webb & Associates serves patients from Tulsa, Northeast Oklahoma and beyond.
Communities include: Bartlesville, Bixby, Broken Arrow, Coweta, Claremore, Collinsville, Glenpool, Grand Lake, Inola, Jenks, Owasso, Sand Springs, Sapulpa, Skiatook and everywhere in between.
Request a consultation » Call today! (918) 260-9322
Patient Reviews & Testimonials
"Dr. Webb is very supportive and actually takes the time to listen to your problems before he comes up with the treatments you may need. Instead of just looking at the xrays and telling you what you need. And this is way more helpful and benifits the patient. I hadn't had a doctor just listen to me and then come up with a plan before and because of that I feel better than I have in a long time. I appreciate the sincere concern for my health his team always gives me."
"Dr James Webb is a God sent miracle. He has changed my outlook from death to life without having total back surgery. Thank you Dr James Webb I have recommended him to several people."
"Dr. Webb and his staff took such great care of me...the procedures he did kept me from having to have extensive neck surgery!"
"Dr, Webb and his staff are utmost professional and I have never had any problems getting questions answered or even calling to speak with staff of anything. To say the least, Dr Webb has given me a new lease on life. Without his treatment, I would unable to complete the minimal daily tasks, much less work. I am so grateful for this team."
"Dr James Webb and his nurse practitioner Jenny have given me my life back!!! Just so sorry it took me 10 years to find them!"
"I am an xray Tech and have seen numerous spine surgeon's, orthopedists and other Doctors miss fractures. It takes a special skill and gift to read/see fractures. I worked with Dr James Webb and he has that gift. He is an incredibly awesome Radiologist!"
"I've had several Dr's since I was injured and dr webb is by far the best I've ever had. Always straight and don't dance around the truth. It's difficult to find a Dr these days that truly cares about those they're trying to help. He does I believe. God bless you all."
"I went to Dr Webb after 9 years of pain & being told I had bulging discs by a couple & Drs I was told I had bad arthritis by later spine institute in OKC & for $10,000 they could fix my problem I heard Dr Webb's commercial & my girlfriend made me an appointment & he tells me I had fractures in my spine that he could fix & probably get rid of 90% of my pain with a procedure called kypoplasti & my back feels at least 80-90% better so I recommend if you've been told there's nothing they can do go see Dr Webb he knows what he's doing."
Office Location
Dr. James Webb & Associates, 6550 E 71st St #200, Tulsa, OK 74133
Dr. James Webb & Associates
[/db_pb_map_pin]